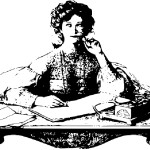 Entry from Journal #1: circa 1935
My mother (Mrs. Eva Rumping) left St. Louis in March 1879, being 3 months on the Missouri river up to Fort Benton1, the boat was checked in the waters by heards [sic] of buffaloes and there [sic] calves fording the river . . . My Father coming up some months before Mother.  I (Mary) was born in St. Louis, 1878-3-3 and the first white child coming to Belmont, Mrs. Elizabeth Wilkenson Fletcher Forlander, next, Lawrence Welch found my baby shoe on the road to Belmont. The Indians and white mens [sic] scalps were met traveling by stage from Fort Benton to Old Silver, 300 miles, a place 6 miles below Marysville. Swamps and beaver dams were first where Marysville was built afterwards. Penobscot, Empire, Gloster, Mt. Plesant [sic] and Belmont were the mines working.  My Father was an engineer in the first 5 stamp mill built in Mary'le by Thos. Cruse.  T. Cruse came here clad poorly riding a black horse from California 49 yrs. ago.  Mother did his washing & baking, he used to fondle me and call me Mamie.  Father had a claim on the Drum Lumond [sic] hill he sold for $12,500 in about 1889 . . .
Later, Mary added the following three sentences at the top of the page:
Mother rode 300 miles on stage from Ft Benton to old Silver City.  Heavy sand bars delayed the boat for days.  The boat was the "Rose Bud".2
And also this entry at the top of another page:
Mother came to Belmont July-7-1879 & so did Wallace Burkhead from St. Louis, MO. and myself, 12 mos. old.
---
NOTES
 Fort Benton. Originally established in 1847 as a fur trading center, Fort Benton (nicknamed "The Birthplace of Montana") later attracted steamboats carrying goods, merchants, gold miners and settlers, arriving from several ports including St. Louis, Missouri. See this website for more information. ↩