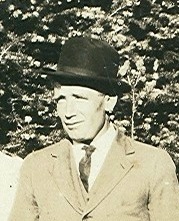 Albert Schaffer was born in Michigan in August 1873, the son of Peter Schaffer and Catherine Feckley.  According to an entry in Mary's Journal #1, Albert came to Marysville on May 20, 1883.
Mary and Albert were married on November 20, 1916, about a year after Mary's 1st husband George passed away.  The couple lived in Marysville.  A son was born January 2, 1921, and died that same day.
Albert died in Marysville on June 22, 1934, at the age of 60.  Albert and his son are buried together in the cemetery at Marysville.
Mary was 56 years old when Albert died.