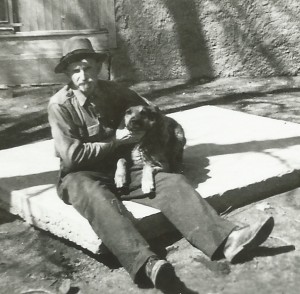 Eugene "Gene" Riordan was born October 31, 1874 in North Vernon, Indiana, the son of Mary Jane Melvin and Bartholomew Riordan.  He married Jennie Meldrum in Marion County, Kansas on January 22, 1913.  Jennie died in 1925.
Mary and Gene were married February 1945 and Gene died just four months later, on June 25, 1945 in Cimarron, Kansas.  Although the couple were living in Kansas at the time of his death, Mary had Gene's body brought back to Montana and he is buried at Resurrection Cemetery in Helena, next to Mary.
One interesting note: Since Mary's mother was also from North Vernon, Indiana, I'm investigating the possibility that either Mary and Gene may have known each other for many years before they married, or perhaps they met later in life when Mary visited her mother's family in North Vernon in the late 1930s or early 1940s.