Since I was feeling lucky and excited to have located a picture of the steamboat Rose Bud, referenced in the post 1879: Mary's Trip to Montana, I got curious this morning and decided to do a little more research.  This was a fun – and very fruitful – research project!
First, I found another wonderful photo of the Rose Bud, courtesy of the Montana State University Library, James Willard Schultz Photos and Personal Papers.  The description of this photo is as follows:
"Photo of a steamboat docked on a river. It has 2 tall smoke stacks and a letter P on a banner between them. The name Rosebud on the wheelhouse. There are men on deck and a group of men including soldiers are standing on the shore with bags of freight stacked nearby."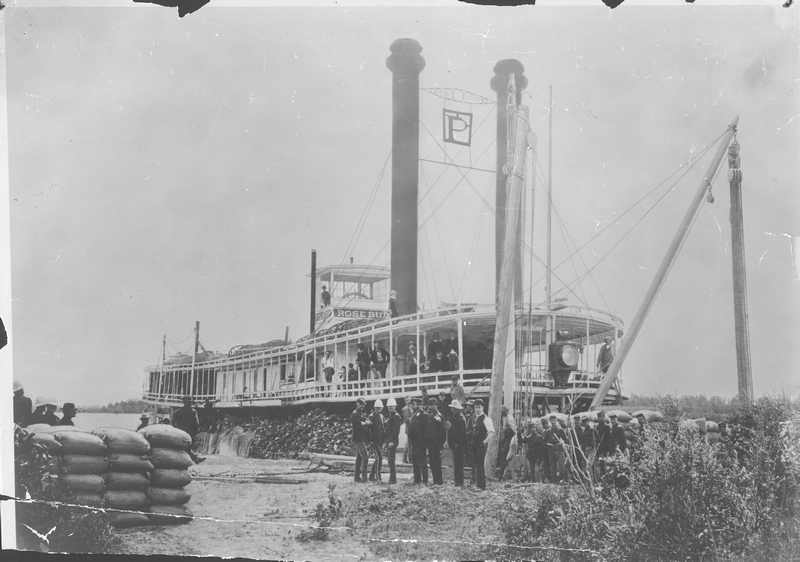 Next, I learned that Missouri River steamboats transported passengers and freight to the gold mines in Montana from 1862 until 1888.  Many only made one or two trips.  Most were small stern-wheelers built for other rivers and not adapted to the strong currents and tortuous channel of the Missouri River.  Consequently, a large number of the ships were lost.  [see Complete List of Steamboats Operating on Upper Missouri River]
However, it seems the Rose Bud fell into a slightly different category from other Missouri River steamboats.  According to a 2011 article in the Billings Gazette, the Rose Bud was built in Pennsylvania in 1877, and was designed to work the shallower waters of the Upper Missouri and Yellowstone.  She was 193 feet long and could carry 286 tons, plus passengers and crew.  Her maiden voyage was in the summer of 1877 – with Gen. William Tecumseh Sherman on board.  He was on a tour of military facilities following the Battle of the Little Big Horn in 1876.
The Rose Bud made more than 50 trips to Montana over a 19-year period, and was one of the last steamers on Montana rivers before railroads made them obsolete.  The Billings Gazette article goes on to state that the Rose Bud was wrecked on pilings of a railroad warehouse in Bismarck, North Dakota, when the water level on the Missouri went down unexpectedly.1
And finally, I learned that the Rose Bud pilot's wheel is located at the Montana Historical Society Museum in Helena.  I will definitely check that out on my trip to Helena this summer!
---
1.  went down unexpectedly.  I found a source that states the Rose Bud sank in the Missouri River near Bismarck on
May 25, 1880

.  If the Billings Gazette article is correct that the Rose Bud's career spanned a 19-year period, this date is incorrect.