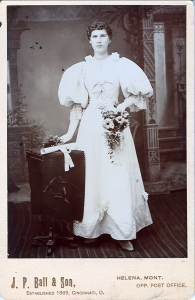 In the summer of 2011, while on my annual trip to Helena, Montana to visit family, I discovered that my paternal great grandmother, Mary Gertrude Rumping Schenk Schaffer Riordan (yes, she outlived 3 husbands!) had written three journals.  Over the next few summers, I likewise discovered – thanks to my Aunt who saved the journals – that during her lifetime, Mary had accumulated many items that include personal and historical photos, post cards, vintage greeting cards, letters, documents, and other memorabilia.
Through this windfall of family history, I have come to know my great grandmother in a way I could never have imagined possible.  The first thing I learned was her love of education and passion to become a schoolteacher.  Sadly, she was never afforded that opportunity.  But as I have spent the last few years immersed in her life, I realize that Mary became a teacher after all.  Through this amazing collection, she has taught me everything a great grandmother would hope to teach a great granddaughter – if only the opportunity existed.  Thankfully for me, that opportunity did exist.
The purpose of this blog is to honor Mary's life and share all that I've learned with her descendants – as well as anyone who appreciates a good story.  I hope you enjoy getting to know Mary as I have – an inspirational and very human woman that we can all relate to.
Note: Mary's vast collection contains many names, stories and historical information related to a mining town in Montana known as Marysville, located 25 miles northwest of Helena. It is my hope that some of the descendants of the pioneers who settled this town in the late 19th century will find useful information here through the journal transcriptions and photos I will post.