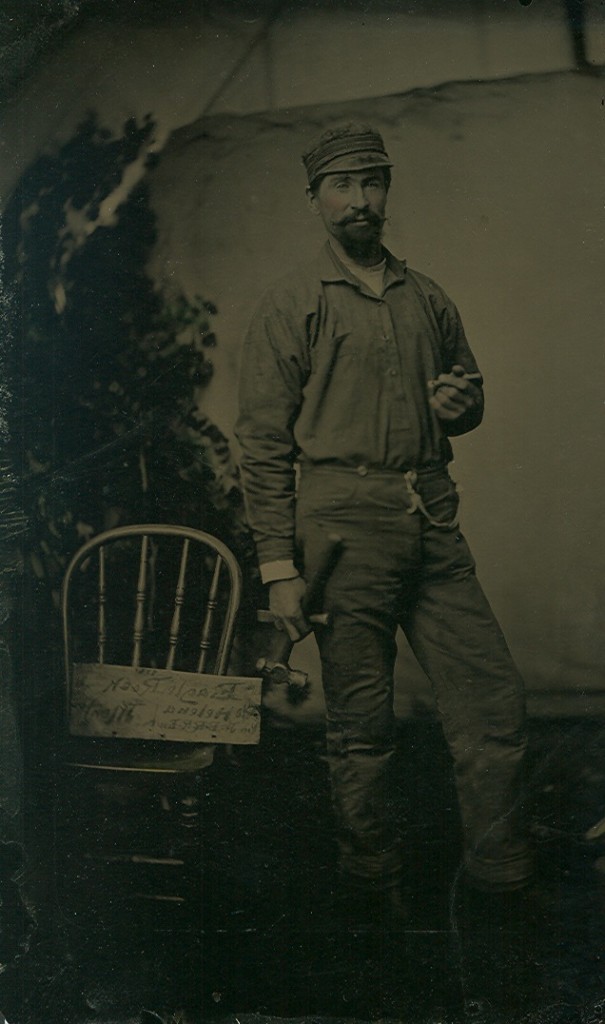 On pages 12, 13 and 14 of Mary's journal, there is a detailed biography of her father, John H. Rumping.
I learned some time after the first reading that Mary copied the biography from a book entitled An Illustrated History of the State of Montana : Containing a History of the State of Montana from the Earliest Period of its Discovery to the Present Time, Together with Glimpses of its Auspicious Future, Illustrations and Full-page Portraits of Some of its Eminent men, and Biographical Mention of Many of Its Pioneers and Prominent Citizens of To-day by Joaquin Miller, published in 1894.1
Here is Mary's transcription of the biography, plus her annotations shown in italicized bold print. I have also added a few footnotes of my own.
---
John H. Rumping, one of the prominent mine owners of Marysville, was born in Hanover, Germany, August 24, 1854. His father, Colonel Phil Rumping, served as Colonel under the Hanover Government. He was a descendant of the great family of Windhursts, one of Germany's most noted families.2 His own name was Lumdesh3, but took the name of the lady he married to enable him to hold the estate on which they still reside. They have reached the ripe old ages of seventy and seventy-three years, respectively, and are still in the enjoyment of good health. One of their ancestors made his wealth as a dealer in lumber, and at his death endowed a college4 with the proviso that his posterity should have a free scholarship in the same for four generations. Mr. and Mrs. Rumping had four sons and four daughters.
John H. Rumping, the subject of this sketch, came to America in 1870, at the age of sixteen years, after which he resided in Cincinnati, Ohio, until 1873. In that year he took passage on the Charles Mead for St. Louis, with the intention of going to the gold excitement at the Black Hills.5 Learning that the Government troops had compelled the emigrants to return, on account of the conduct of the Indians, Mr. Rumping accepted a position as engineer in a flouring mill, remaining in that city until the spring of 1878. Still desiring to reach the gold fields, he engaged at St. Louis as engineer on the Fontenelle, and came to the Cheyenne agency.6 He afterward returned to Yankton, took merchandise to Fort Benton for the Government, and next came to Helena to look for a position as engineer, but was unsuccessful. He then tramped to Silver Creek, where he met the pioneer, William Brown, who gave him information in regard to the resources of the creek. Mr. Rumping first mined on Silver creek, for John Brooks, afterwards worked for Nathan Vestal at Penobscot, assisted in building the Belmont mill, and next purchased an interest in a prospect which proved worthless, losing $260 in the transaction. Not discouraged by his failure, he invested his earnings in mining property, and became very successful. At one time he paid $250 for a one-sixth interest in a mine, and afterward sold his share for $12,500.  Soon afterward Mr. Rumping purchased a one-third interest for $500 in lot 48, of the Fabian placer claim, in which he sold his share for $1,200, also receiving a two-thirds interest in the Oregon placer claim. He mined on that property two years, and took out considerable gold. He now owns thirty-seven acres of placer land north of Marysville, 320 in Judea Basin7, four miles below Stanford; two residences in Marysville, two at Belmont, has 2,000 shares in the Bald Butte, 25,000 shares in the General Grant, one-sixth interest in the Secot Group, five-sixths interest in the Shakopee (He died in 1922. The mine now belongs to Marry & Wm Rumping & Alb Shaffer.) and a half interest in the Nile. Although Mr. Rumping has had many varied experiences in Montana he has held his own among the capable and successful mining men of the county, and has accomplished valuable mining property.
He was married in St. Louis, in October, 1876, to Miss Eva Frances Specht, a native of North Vernon, Indiana. They have had four children, the eldest of whom, Mary G., was born in St. Louis, and the remainder–John Joseph, William Walter and Maud C.,–were born in Montana. The family resides in Marysville.  In political matters Mr. Rumping acts with the Democratic party, but, although well informed on all the topics of the day, gives his time and attention principally to mines and mining. He has visited his relatives and his childhood home in 1890 in Europe, and the rest of the family visited at No. Vernon, Indiana until his return to America, but is a pronounced American citizen, in full sympathy with all that is American, and is only one of hundreds of thousands of Germany's brave sons who come to this free land to make their own way in the world, his brothers Joe, and Frank came to St. Louis later on and went in the dairy business there, and by their own efforts have become our most enterprising citizens. He has a large farm near Calgary, Canada in 1904, also a hotel at Billings in 1908, was married the 2nd time in Dubuque, Iowa. He died in Bisbee, Arizona in about 1922.8  9
---
NOTES
Joaquin Miller, An Illustrated History of the State of Montana (Chicago: Lewis Pub. Co., 1894), pp. 728-729; digital images, Ancestry.com (http://ancestry.com : accessed 16 September 2017). ↩
I'm in the process of researching this connection. ↩
I've also seen ZumDresch as a possible alternate spelling. ↩
Possibly Windthurst Gymnasium in Meppen, Germany? I am researching this connection. ↩
Was John originally interested in going to South Dakota?? ↩
I wonder if records exist that might help me confirm some of this information? ↩
I think "Judea Basin" is probably "Judith Basin". ↩
Of these last comments by Mary, there is a reference in either her journal or a letter from or to someone that references a farm in Canada, and I am unaware of the hotel in Billings. More research needed on those two points! I am aware that John married a second time in Dubuque, which will be the subject of a future blog post. And I have confirmed that he died in Bisbee, Arizona. ↩
 The tintype image of John H. Rumping is probably dated circa 1878. Interestingly, when this image is flipped horizontally, the sign in the chair becomes somewhat legible. It reads, "Eagle Rock" and then something about "Helena, Montana". The words at the bottom of the sign are not clear. Some preliminary research indicates "Eagle Rock" may refer to the city of Idaho Falls, Idaho. Apparently Eagle Rock was located on the Montana Trail and served miners on their way to the gold mines in Montana. This route is at odds with the biography above, but since Montana was very isolated at the time, perhaps John travelled back down to Eagle Rock, or even Salt Lake City, in order to purchase additional supplies. More research needed! ↩