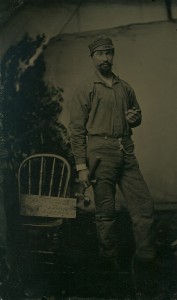 Mary's father was born August 24, 1854, in Hanover, Germany.  His parents were Johann Carl Philip Zum Dresch and Anna Maria Gertrud Reumpfing.  He arrived in the United States at age 16 and married Eva Frances Specht in 1875 at St. Louis, Missouri.  John arrived in Montana Territory in 1878 and was joined by Eva and his one-year-old daughter Mary in 1879.  John and Eva had three more children, two boys and a girl.  All three were born in Montana.
In 1893, Eva filed for divorce against John.  The case was soon dropped but according to court records, Eva and John lived separately after that time.
In late 1906 or early 1907, John filed for divorce against Eva and was ultimately granted a divorce on March 23, 1907.  In May of 1907, he married Freda Molitor in Des Moines, Iowa.  Unfortunately for John, the Montana Supreme Court reversed the divorce granted by the lower court several months later, based on a technicality.  In January 1908, John was under "nominal arrest" on a charge of  living in adultery.  He was ultimately granted a divorce from Eva in March 1909 but by 1912, he and Freda were divorced and John was on his way to Bisby, Arizona.
Based on Mary's journal and other documents, it appears she and her father were estranged at the time of his death in Bisby in 1921.
---
The back of the photo above reads: "Mr. Jno. H. Rumping.  He was the first engineer in Col. Thos. Cruse's five stamp mill in Marysville in about 1881.  He came to Belmont, Deer Lodge Co. Mont. in 1878 from St. Louis Mo."  The note was probably written by Mary.