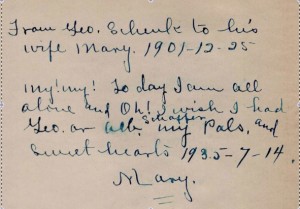 I found this sweet note inside the front cover of one of Mary's photo albums, which she wrote in 1935 – many years after the album was gifted to her by her first husband George Schenk.  At the time the gift was made, George and Mary had been married a little over a year.
At the time she wrote the note, George had been dead for nearly 20 years. Her second husband Albert had died just the year before on June 22nd.  It would be nine more years before she would marry her third husband, Eugene Riordan. Sadly, Eugene died just a few months after they married.
---
Note Transcription:
From Geo. Schenk to his wife Mary. 1901-12-25
My! My! To day I am all alone and Oh! I wish I had Geo. or Alb. Schaffer my Pals, and sweethearts 1935-7-14.
Mary.